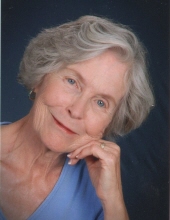 Obituary for Elizabeth Sue Brown
Sue Brown, Norman, slipped the bonds of earth into the presence of our Lord and Savior on October 26, 2019, at the age of 82, after a four year battle with Lewy Body Dementia. Sue was at home surrounded by family.
Born to Clark and Vera (Morgan) Long in Norman, Oklahoma Sue graduated from Norman High School in 1954. Sue was a member of the high school band and the University of Oklahoma band 1954-1955 playing the French horn in both bands.
In September 1954 she met the love of her life Roy Lee Brown and they were married on September 2, 1955. They have five children, Randy, Ronnie, Susan, Donna and Michael.
Sue was a full time wife and mother. Her unconditional love for her children was evident in the words found in one of her diaries, "Thank you God for children with merry eyes and trusting smiles and giggles that never stop. Remind us often that parenthood is more than an endless task—it is a sacred trust from you." Sue loved to cook and was known everywhere she lived as an exceptional cook and host. She was very adaptable and quickly made friends in new places as the family moved numerous times with Roy's job. She always made sure the family got settled into church with each move and would soon become involved in church activities. She was quick to make the family feel at home wherever they moved. Over the years she was in home dinner host to many international personnel visiting Halliburton for whom Roy worked.
In 1977 the family moved to Madrid, Spain for seven years. Sue quickly adapted to the new environment and language as few locals spoke English. She became the tour director for the American Women's Club of Madrid and set up and led many tours throughout Spain, into other European countries, Russia and Morocco. She became very versed in Spanish history. On a trip to Russia she carried Russian language Bibles (unknowing to her husband) in to further the gospel. All the tour group luggage was opened and checked by customs except hers! She successfully distributed the Bibles while there.
Sue was preceded in death by her parents and brother, Reggie. She is survived by husband Roy of the home, son Randy and wife Linda of Houston, Texas, son Ronnie and wife Liz of Nichols Hills, Oklahoma, daughter Susan and husband Bob of Stillwater, Oklahoma, daughter Donna and husband Kelly of Norman and son Michael and wife Kelly of Phoenix, Arizona, also thirteen grandchildren, Kristalin Brown and Jace Brown of Houston, Texas, Ben Rogers (Kyle), Chicago, Illinois, Sam Rogers, Bozeman, Montana, Matt Brown (Ryanne) Nichols Hills, Oklahoma, Lauren Warner (Erik) of Oklahoma City, Andrew Brown of Nichols Hills, Ellisa Hoyt (Andrew) of Jenks, Oklahoma, Aleks Kitchens (Patrick) of Tulsa, Kaden Brown, Willow Brown, Drake Brown and Faith Brown all of Phoenix, Arizona. She has six great grandchildren. She is also survived by sister, Carolyn and husband Dick Sigler of Moore, Oklahoma and several nieces, nephews and cousins.
The family wishes to thank the wonderful ladies from Hearts at Home who have so lovingly cared for Sue the past two years.
Previous Events
Visitation
Tribute Memorial Care Event Center
708 24th Ave. NW
Suite 200
Norman, OK 73069
Family will received friends from 6PM-8PM.
Celebration of Life
First Baptist Church, Norman
211 W. Comanche St.
Norman, OK 73069