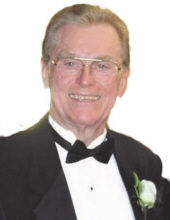 Obituary for Dr. Kenneth Earl Starling
Faith, hope, and love; but the greatest of these is love (I Corinthians 13:13). Dr. Kenneth Earl Starling passed away on November 26, 2019 after living a wonderful life. Kenneth was born to Neville Earl Starling and Marie Poage Starling on March 9, 1935 in Corpus Christi, Texas. Kenneth was one of six children. He had two brothers and three sisters. Barbara Ann Starling is the last living sibling and lives in Houston, Texas.

Although his career was remarkable, it is his personal life with Barbara Jean (Gransee) Starling that brought Kenneth his greatest joy. Married on June 11, 1960, Ken and Barbara have enjoyed a beautiful life together filled with love for over 60 years. Their three children are Suzanne Marie Starling, Scott Richard Starling, and Stephani Laval Starling. Suzanne is married to Curt Pool and lives in Plano, Texas. Scott is married to Julie (McNichols) Starling and resides in Cypress, TX. Stephani lives in Norman, OK. Ken and Barbara have nine grandchildren (Courtney, Lauren, Natalie, Jacob, Sarah, Caroline, Claire, Ava, and Blake); and, six great-grandchildren (Avery, Owen Kenneth, Levi, Takota, Declan, and Waylon Kenneth).

Dr. Starling earned degrees in chemistry and chemical engineering from Texas A&I, a masters and PhD from the Illinois Institute of Technology, and spent a post-doctorate year at Rice University. Professor Starling joined the University of Oklahoma in 1966, and taught there for nearly three decades. He has been active both in academic areas and the gas industry. He has authored more than 180 articles and a book. Honors bestowed upon him include induction into the Higher Education Hall of Fame, the George Lynn Cross Research Professorship, the Sliepcevich Professor of Chemical Engineering, the 2013 Gas Processors Association's Don Katz Award for outstanding accomplishments, the Mid-America State Universities Association Honor Lectureship in 1977-78, and the OU College of Engineering Award for Outstanding Faculty Achievement in Research (1981); he was elected a fellow of the American Institute of Chemical Engineers in 1966. His research became internationally important after publication of two equations of state, both which bear his name, and have been cited over 3,000 times in technical literature.

A memorial service will be held at 11:00 AM, on Saturday, November 30, 2019 at the University Lutheran Church; 914 Elm Avenue, Norman, OK followed with a reception luncheon in the church lobby. The family requests donations memorializing Ken's life go to either the Ken Starling Endowed Scholarship Fund at OU (https://giving.oufoundation.org/onlinegivingweb/giving/onlinegiving/starling), or MD Anderson Cancer Center; Houston, TX (https://gifts.mdanderson.org).

Please share memories and condolences at www.tribute.care (405.292.4787).
Previous Events
Celebration of Life
University Lutheran Church
914 Elm Ave.
Norman, OK 73072
Memorial Contribution