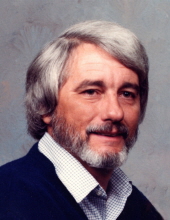 Obituary for Dale Jean Deatherage
Dale Jean Deatherage was born on May 28, 1943 to Virgil Valjean Deatherage and Lois Gay (Sisson) Allred in Norman, Oklahoma. He passed at his home in Midwest City on February 6, 2019 at the age of 75.

Dale grew up in Norman, graduating from Norman High in 1961. Dale was naturally mechanically inclined, a skillset which he parlayed into a successful career in computer programming for over 40 years. During his long tenure as a computer programmer, Dale collected many awards and honors. He started his career with Byer-Rolnick, a hat company based in Dallas, TX. Dale then worked for NASA in Houston before moving back to Norman to work for the FAA. Dale left the FAA for a position at Tinker Air Force Base, where he worked for three years before returning to the FAA until his retirement in 2002.

Dale loved the outdoors and never missed an opportunity to go camping and get out on the lake for some bass fishing. After his retirement he purchased a vacation home at Lake Texoma and spent as much time as he could down there.

Dale had an exceptional sense of humor and a penchant for having fun. In his spare time he enjoyed woodworking, and was always willing and able to fix just about anything for his friends and family. He was kind, generous, and dependable, and he will be greatly missed.

Dale was preceded in death by his parents, his second wife Helen, and his step-father Bob Allred.

Dale is survived by: daughters Diane Schroeder and husband Eric of Norman, Lauri Deatherage of Norman, and Angela Sarabia and husband Don of Oklahoma City; step-children Jody Plog, wife Sabrina, and sons Nathan, Seth and Zach; Johnny Plog, and children Donna and Chris; and Jana Dupus, and children Jeannie and Heather; grandchildren Shawn Deatherage and wife Amy, Cassandra and Brianna Sarabia, and Stephanie Schroeder; great-granchildren Bentley and Gwen Deatherage;first wife and mother of his children Carolyn Deatherage; and a host of many cousins, extended family, and friends.

Due to severe allergies, the family has requested that lillies not be sent.
Previous Events
Celebration of Life
Tribute Memorial Care Event Center
708 24th Ave. NW
Suite 200
Norman, OK 73069
Due to severe allergies, the family has requested that lillies not be sent.